The Real Truth Behind Guest Putting Coin In Hotel sink
I stood wondering when I saw an online ad "Why Hotel Guests Should Always Put Coins in the Sink?". Before clicking that ad, I came up with many questions like what does a coin in a hotel sink means and why people put coins in the sink at hotels. There were different thoughts and queries about this coin in the sink hotel hack.
But after hours and hours of research, I found the answer that uncovers,
This hack can be utilized the next time you stay in a hotel, All you need to do is place the plastic over the sink and put a few coins in it.
That'll be an easy money saver on vacation to fit the budget. How Is It Possible? Yes, in fact with these hacks, you'll always be prepared for a five-star hotel experience!
let's figure out what a coin in a hotel sink means; it may be useful to bypass the high-priced service charge that you'll have to pay for washing clothes.
Coins In Hotel Sinks Secrets and Little-Known Facts
It came noticeable many travelers were putting coins in their hotel sinks during the time of travel. You may think that they've gone insane. But this is actually a great money-saving tactic many people are using in hotels. However...
We all know that if you want your dry cleaning done in a hotel this can be very expensive; that's not always great if you're traveling on a budget.
But people have come up with a clever idea to save money and do their laundry inside their hotel rooms.
They simply put some cling film over the plug of their sink or bathtub they then use coins to weigh down, filling that up with water and washing clothes in it.
This is actually a great option if you're desperate for clean clothing and don't want to pay any money.
Disclaimer: Well, on a tight budget this can be forsaken. Because we all love to travel and not every hotel is affordable for us like a king or a queen. Sometimes, we apply force for our terms.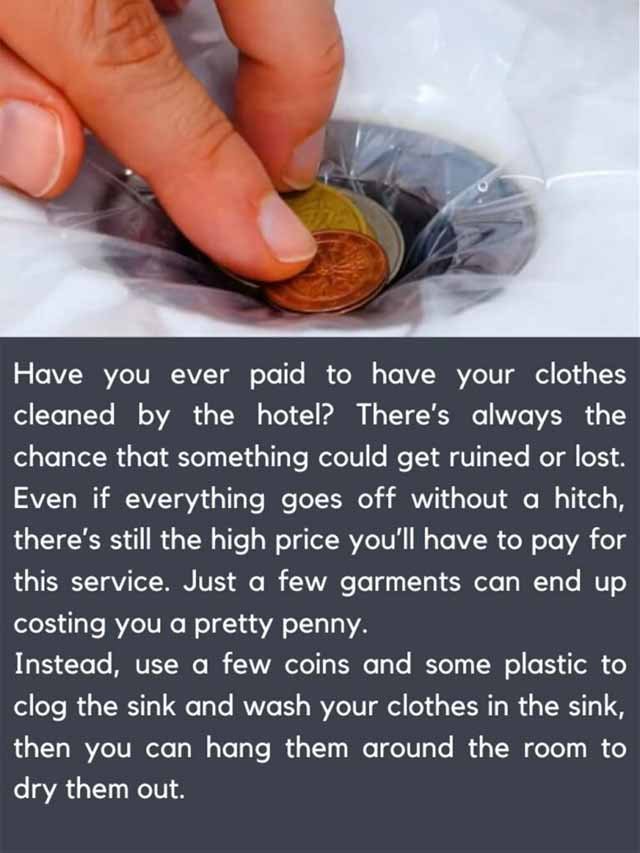 Fact-Check
The Snopes reports, the tip was simply to place the coins on top of the plastic, creating a quick barrier, so clothes could be washed in the sink.
Top 10s on its YouTube video explains that putting coins in hotel sinks is actually a great money-saving tactic many people are using in hotels.
However, Icepop also mentions it as one of the Genius Hotel Hacks that Can Help To Revolutionize Your Travels. They explain placing the plastic over the drain and putting a few coins in it do a great job of plugging the drain.
No matter all the internet rumors and fearmongering, it's important for you to understand this trick and make yourself aware of it right away.
Let You Know In Visuals
Put coins in a hotel sink if you are traveling on a budget! It's simple and great because we all know that if you want your dry cleaning done in a hotel this can be very expensive which is not always great.
Now It's Up To You
If you were asked "do you think it's a good idea to put a coin in the hotel sink" what would your answer be?
As for me, this indeed has been a great money-saving tactic for me as well. It sounds weird but yes I did laundry inside my hotel room. I just placed luckily found cling film over the sink and used coins to weigh it down and filled water for washing my cloth in it.
So, I am going to say this is one option I can personally validate as just weird enough to work. I'll leave it up to you to decide whether applying this hack is worth it or not. Also, normally just let you know the bathroom sinks come with their stoppers that can be used to hold water in the basin.
So What's Next?
Thanks for reading my article on what a coin in a hotel sink means.
Like what you've read? Make sure you bookmark this page and pop back soon, we're constantly adding new facts-articles.
Ready to read something else now? Check out our article on Why put a tennis ball on luggage while flying on an airplane?
Article Sources…